Meet out Franchisee: Chris Dye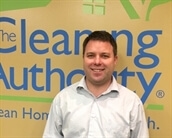 A longtime customer of The Cleaning Authority, Chris Dye, a chemical engineer by trade, found himself looking for new opportunities upon landing in a career rut, which led him to getting his MBA from the University of Tampa.
"In the chemical industry, after a certain point in your career, you get pigeonholed," Chris said. After completing his MBA, Chris was attracted to the franchise model because of the strong support system and network. So, he jumped at the opportunity to take over his local The Cleaning Authority franchise when he learned it was for sale.
"I wanted to use more of my broad experiences and that led me to pursue small business ownership. Since owning your own business is a very different path than chemical engineering, I wanted a franchise that had a strong support system and network that I could tap into and utilize to help me be successful."
His location will serve the Lakeland community and he has plans to expand service throughout Auburndale, Winter Haven, and Plant City. "To me, it is more interesting work than other brands, and it also allows me to use my interests and skills. I am a people person, so I really like working with the cleaners and customers directly," he said. "I would have never guessed that I would have purchased a franchise business if you had asked me five years ago because it wasn't even on my radar. I perceived franchising as a large and unattainable process, which I was pleasantly surprised to find was not the case."